It's unusual for someone seeking treatment to leave one of the Ananda Marga Yoga Wellness Centers (https://amwellness.org/) in the same condition they arrived, according to Dada Dharmavedananda, who founded the first center in 2005, in Mandaue City, Cebu Province, Philippines.
It's more common for a person to leave the center on the road to recovery at the very least.
"It's astonishing to see when people have extremely bad skin problems, for instance. They are going to lots of doctors, but when they come to the center it gets step by step better until it's completely or almost completely gone," he said.
Bonafe Karen O. Amador, from Davao, Philippines is one such case. He faced psoriasis and a psoriatic arthritis crisis when he arrived at the Wellness Center. "Before coming, I had chronic pain at the joints of my right thumb, right elbow, right chest, and associated pain at my lower leg muscle. Psoriasis was flaring up in both my lower legs," Amador said. After a 12-day treatment, however, all that was left was a slight pain on his thumb. "What is so impressive about the program is that it is not only treating my body but mind and spirit as well. The kiirtan and meditation were so relaxing. I felt light and had peace of mind."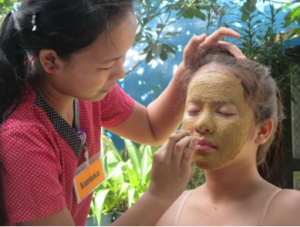 Skin problems are some of the most common conditions treated at the center, but the facility also treats cancer, diabetes, heart trouble, sinusitis, chronic cough, weight issues, digestive troubles, high blood pressure, and pervasive body pain like fibromyalgia.
"We've had old people with arthritis pain who for years and years couldn't walk without pain," Dada said. "One of the very first cases was a man who was extremely overweight. He was wheelchair-bound. Doctors said he had nearly 100 percent coronary artery blockage and he couldn't even stand or sit without strong help. Within 10 days he could stand by himself and take initial steps. In three weeks he was walking."
"Almost everybody, they look better when they leave," Dada said. "They look brighter, their skin is better quality, and they're happier. Symptoms are invariable, with a few exceptions, radically decreased or disappeared."
Aniisha Koenig came all the way from the United States with the goal of getting her meditation practice to be regular and to learn how to eat in a healthy way. "It was an amazing experience. When I returned to the States, my family and friends said my skin glowed and they observed the happiest Aniisha they had ever seen," she said. Denise Flesch, from France, healed a stomach pain that had bothered her for years after a 14-day program at the center. "Dada Dharma is so good to be able to locate the main cause of my health problem. Now I can eat nicely. My sleep is very good. I do not feel tired anymore when I wake up. I found the way how to maintain good digestion and in general, better health."
The center isn't as skillful in structural problems of the bone or muscles, but attendees also see some reasonably good results. The center's expertise is chronic diseases related to internal organs. The vast majority of the work at the center in Cebu as well as centers around the world is detoxing and proper nutrition.
The idea for the Yoga Wellness Center came to Dada during meditation. He wanted to create a meaningful social service project that would serve a lot of people in a powerful way. He considered possibilities such as helping alcoholics or juvenile delinquents but dismissed the ideas for one reason or another. One day while driving a motorcycle down the highway in Taiwan, Dada shouted at Baba asking, "What kind of a guru are you? I'm trying to find a proper service work and you're not giving me the way." In that angry mood, he sat down to meditate. Within a few seconds, he heard very loudly in his mind, "Do natural therapy as a service."
From there the idea took root. He and a team of people set up an experimental outpatient clinic in Taiwan. Then they shifted to Korea to create an inpatient clinic at the master unit there. When Dada was transferred to Manila Sector, he took the determination he wanted a proper inpatient center that could act as a global model. He continued to receive guidance about the project in unexpected ways.
"I was in the airport in Singapore and jumping in my head the thought came, 'Baba, is now the right time to start raising money for a natural therapy center?' In the same moment, I saw something on the floor, picked up, and held it in the air. It was money. 'Did anyone lose any money?' I asked. No one stopped. It was a 100 dollar note."
That was in 2003. Construction started a few months after that and the center in Cebu opened in February 2005. People stay any length of time from a couple of days to four weeks. The amount of people fluctuates all the time. Sometimes during training, the center bursts at the seams with 15 trainees. And sometimes, the center has few or just one or two or even is sometimes empty.
Dada estimates 2,000 people have visited the center and many people received initiation while there. It's hard to quantify the numbers, but maybe one-third of the non-margiis who come get initiated into the Ananda Marga style of meditation. Some of those initiates become dedicated margiis.
Every year the Cebu center offers training and around 130 have graduated from the program.
In terms of what's next, Dada and his team are turning their attention to a global network.
The concept of the Yoga Wellness Clinic expanded and now other centers exist around the world, as for example in the United States ((https://prama.org/); in Ananda Nagar in Índia (http://yogadetox.in/) and in Taiwan (https://yogafasting.org/).
Ratna Devi from Cebu, Maharlika graduated from the Basic Naturopathy Course last February 2017. She said, "I came to understand that healing involves treating the body, mind, and spirit and that is exactly what I've learned and experienced during the course. Over the last two years I have met hundreds of people, and exposed them to the knowledge that I gained during the course. I believe that many of them have really practically benefited from it."
By Radha (Rebekah Moan)