As I write the profiles of this section, I realize that in the DNA of an anandamargii there exists the travelers, time and place molecules, along with the notion that we are passing through, enjoying the landscape, for we are guided by Him.
I spoke with Kamala Alister, the singer of many famous kiirtans, as many people know her, while she was at a retreat in Ananda Kiirtana, Brazil. She came to this country for the wedding of her eldest stepson Ajit Mozzini-Alister, to Brazilian Krishna Kali (Camila Mozzini-Alister).
In her luggage she brought curiosity, discovery, enjoyment, the same qualities that brought her to Baba's philosophy and led her to meet the guru 40 years ago. She was initiated in 1978, and some time later, she heard that Baba had come out of prison and had gone to the US, but that he could not enter the country. So he went to Jamaica, which is where she met him for the first time. She had some doubts about devotion to a Guru. On the final day, she saw Baba during a DMS discourse. "At the end he gave varabhaya mudra, a spiritual blessing. I felt an immense energy in my heart and this opened a deep devotion in me. For many weeks, I would close my eyes and could see him smiling blissfully", Kamala tells us.
In the 1980s, Kamala was an LFT and during that time she started to help the Prout Daily newspaper, in Washington DC, which addressed important global issues from the perspective of Prout. "It was an amazing experience to be in the heart of US politics and to learn to look at the news from the light of Prout. Most nights, I would attend rallies, talks, and meetings in the city. In the morning, the editorial group met and discussed local and world events and then wrote and put together the paper (manually, because it was before computers!). In the afternoon, I would walk for a few hours distributing the copies all around the city," Kamala explains. Baba also received the newspaper every week in India.
After attending University for a few years, Kamala returned to LFT life and she spent five years co-editing the daily Prout Star newspaper out of the Kansas City Women's Prout. Later on she was a co-founder of the California-based Prout Journal, a monthly magazine.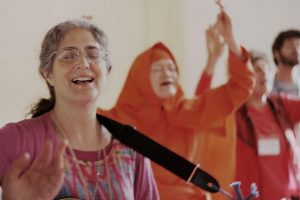 From journalism, Kamala migrated to the arts and in 1986 she co-founded Inner Song (www.innersong.com), a devotional music distribution company in California. "In those days, all the music was on cassette. There was no global distribution, so if people got a cassette they liked, they'd often just copy it for their friends, but the artists received nothing. I contacted musicians around the world, helped them design beautiful album covers, duplicated the cassettes, and created a mail catalog that we sent out. This was able to greatly increase the income for many artists and created a global flowering of spiritual creativity. Later we helped released the first Ananda Marga CD as well", Kamala recalls, animated, because she herself is an enthusiastic player of kiirtan, children's music, and her own compositions, having recorded several albums. http://www.innersong.com/artists/kamala.htm
In 1994, Kamala met and married Australian family acharya Narada Muni. At the time, he already lived on a 20,000-square-meter (50-acre) property, a master unit named by Baba that coincidentally has her name: Ananda Kamala. Together, the couple has accomplished quite a lot in keeping with their higher purpose. They have lived there since, bringing up Narada's two sons as well as two more of their own.
Half of the land is a family cooperative which houses around ten families, some coop members, and others renting. Everyone who lives on the land follows a vegetarian diet, and many families follow Ananda Marga practices.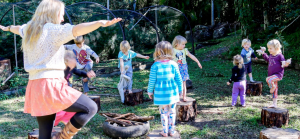 On the other half of the master unit is the Ananda Marga River School (http://www.amriverschool.org/) that was created 24 years ago. The pedagogy is based on Neohumanism, the practice of love for all beings, with vegetarian food, meditation, yoga, and stories based on the philosophy of Baba. The school receives government funding and serves about 150 students, with 60 children in early childhood education to year 6 and a staff of nearly 40.
In a beautiful rainforest valley, with a flowing creek, gardens and comfortable classrooms, the school emphasizes creativity, global awareness, service, and universal spirituality. All food is vegetarian and the children learn meditation and yoga under the guidance of Avadhutika Ananda Tapomaya Acarya, who has an essential role in the school. The school is accredited and receives some government funding, but also brings many unique facets of Neohumanism into its curriculum.
"Most of our students attend the local high school after the River School," Kamala says. "The teachers sometimes say they can spot the River School kids in their class on the first day because of their confidence, empathy and open-mindedness. We have three families who came to the school because one of the parents was a high school teacher. And because of what they saw in our students, they sent their children to our school. We also have teachers now who were originally parents of students at the school. They were so inspired by this new vision of education, that they became teachers, and came to teach at our school."
Kamala has also been involved for the past 15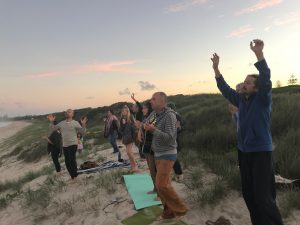 years in organising many Ananda Marga retreats in Australia, as well as the Ananda Mela Festival, a spiritual immersion experience for the public. A new idea has been under the inspiration of Narada Muni, an avid surfer. With their son, Manikya, also a surfer, they started Meditation Beach Retreats around six years ago. These retreats include meditation at the beach at sunrise and sunset, morning yoga , shared evening programs, and healthy sentient vegetarian meals. During the day, participants spend time together surfing, boogie boarding, swimming and walking on the beach.
Kamala tells me that her name means "the purity of the lotus," the flower that grows in the mud, but whose waterproof petals always remain clean,. "The last time I saw Baba in India he was dictating Shabdha Cayanika, a Bengali encyclopedia. On the last day of my visit, on his Sunday discourse, he gave a long explanation of the word "Kamala." It was a very touching experience."
It is with such purity and freshness that Kamala faces a new phase in her life: to dedicate herself less to her small family as their youngest son is finishing high school in 2019. She says for now she has appreciated the chance to delve more deeply into sadhana while she is open to see what the next phase of life will bring. "I've really loved this journey of motherhood. Let's see what Baba wants for me next."
By Taruna (Tatiana Achcar)