As I write the profiles of this section, I realize that in the DNA of an ananda margii there exists the travelers, time and place molecules, along with the notion that we are passing through, enjoying the landscape, for we are guided by Him.
I spoke with the American Kamala Alister (Claudia Alister), 57, while she was at a retreat in Ananda Kiirtana, Brazil. She came to this country for the wedding of her eldest stepson to a Brazilian girl. She was going to pass through Rio de Janeiro and other cities in the north and then go on to Latin America, having come from Ethiopia, Africa.
In her luggage she brought curiosity, discovery, enjoyment, the same qualities that brought her to Baba's philosophy and led her to meet the guru 40 years ago. "I heard that Baba had come out of prison and had gone to the US, but that he could not enter the country. So he went to Jamaica, which is where I met him for the first time. I had been initiated just two years earlier, I knew very few people, and I did not have the airfare or a hotel to stay in. First I saw Baba speak during a DMS and at the end he gave varabhaya mudra for everyone in the room. I felt an immense energy in my heart and this opened a deep devotion in me. For many weeks, I would close my eyes and see him whole, live," Kamala tells us.
In the 1980s, Kamala was an LFT and during that time she started working at the Prout Daily newspaper, edited in Washington DC which addressed important global issues from the perspective of Prout. "I learned a lot because I had to live and study the ideas of ​​Prout and then I would sit down at the typewriter. We distributed it in many different parts of the city, at events and protests, and Baba received the newspaper every week in India." Later on, she worked for Prout Star in Kansas City, Missouri, and also for the Prout Journal in California.
From journalism, Kamala migrated to the arts and went on to work at Inner Song, a devotional music distribution company in California. "There was no system to distribute the music of margii's artists, so in 1984 we started contacting all the artists in the US by letter, and they sent us cassette tapes with their material. We duplicated the cassettes, made a catalog, and sent them out by mail, all with money from our own pocket. It was a mission really. We sold thousands and thousands of cassettes, before the arrival of the CD, and we assembled a collection with a wide variety of kiirtans", Kamala recalls, animated, because she herself is an enthusiastic player of kiirtan, children's music, and her own compositions, having recorded several albums. http://www.innersong.com/artists/kamala.htm
In 1994 Kamala moved to Australia. There she met her current husband, the Australian Ghrii Acarya Narada Muni (Paul Alister), the only family acarya in the country, to whom she was introduced by Liila, the margii sister whom she introduced to meditation in 1982.
Together, the couple has accomplished quite a lot in keeping with their higher purpose. They have two children and live in Maleny, Queensland, Australia, on a 20,000-square-meter (50-acre) property, a master unit that coincidentally has her name: Ananda Kamala. There are other families who live on one half of the property, some of whom follow Baba's philosophy, and on the other half is the Ananda Marga River School (http://www.amriverschool.org/ ) that was created 24 years ago. The  pedagogy is based on Neohumanism, with vegetarian food, meditation, yoga, and stories based on the philosophy of Baba. The school receives government funding and serves about 150 students, with 60 children in early childhood education.
The academic program follows the statewide school curriculum and adds a great diversity of activities, services, global learning, filmmaking, indigenous studies, community events, relationship building, sports, outdoor adventures, and more. They use Restorative Practice (a conflict-resolution method) in the school as a model for building strong, healthy relationships.
The little ones spend three mornings a week in the woods, rain or shine, and enjoy experiences in the lap of nature while learning skills appropriate to the environment. "It's a very rich learning experience that has a profound inner impact," says Kamala.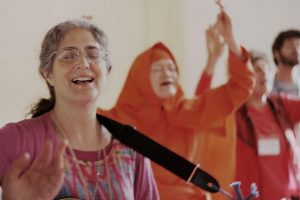 The school is a success! It has a river, a forest, an orchard, a beautiful infrastructure and frequently receives curious visitors. It also offers training for teachers who want to learn Neohumanist pedagogy. At present, some parents of students are also teachers at River School." In public high school it is noticeable which students come from River School: they demonstrate greater personal confidence and greater empathy and openness to the world while learning. At the convenience store in the city, which employs some young people, our students also stand out for these qualities," Kamala happily tells us.
Another enthusiastic project of the couple is Beach Camp, a yoga, meditation, surfing and beach activities retreat that has been taking place twice a year for the past six years, started by  her husband and one of her sons, both surfers. Those who arrive are lodged in small cottages on the beach where they can rest, have fun and at the same time go deeper into spiritual practices. "It is not an ideological retreat; we practice and talk about spiritual life while having fun with beach activities, cultural evenings, and conversations with friends."
Kamala tells me that her name means "the purity of the lotus," the flower that is born and grows in the mud, but whose waterproof petals the mud does not stick to – it is always clean, fresh and pure. "The last time I saw Baba in India he was writing a Bengali dictionary with the meanings of innumerable expressions. That's when I discovered the deeper and more complex meaning of my name. It was very important to know that from Baba."
It is with such purity and freshness that Kamala faces a new phase in her life: to dedicate herself less to the children, for the youngest is finishing school, and to open up more space for sadhana, for internal time. "Of all my roles, being a mom is what I love the most. Let's see what Baba wants from here on out. I'm surrendered."
By Taruna (Tatiana Achcar)